St. Louis Divorce Lawyer
Fighting for Your Best Interests During Divorce in Missouri
Are you filing for divorce in Missouri? Not only may the process be difficult and stressful, requiring you to make decisions that you had never anticipated you would have to make, but it may take a considerably long time if you are not well-versed in the law. While you may attempt to file for divorce on your own, it is highly recommended that you seek professional legal services from STL Law Group. You are already going through enough, do you really wish to take on the burden yourself completely?
A St. Louis divorce lawyer at STL Law Group can help you with the filing process by: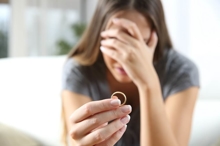 Protecting your rights throughout the process
Helping you remain objective during this stressful time
Assisting you with properly filling out and filing all required forms
Educating you on the entire divorce process and your best available options
What Are the Grounds for Divorce in Missouri?
Missouri is considered a no-fault divorce state. You only need to state that the marriage is "irretrievably broken" and there is no chance that the marriage will survive. You can then begin the divorce process. You do not need to spend time trying to prove that your spouse was responsible for the end of the marriage. Also note that there is a minimum requirement to be a resident of the state for at least 90 days prior to filing your divorce case in court.
What Counts as an Irretrievably Broken Marriage?
In St. Louis, residents are able to file for divorce on the grounds that the marriage is irretrievably broken. Irretrievably broken means that due to present or past events, the marriage cannot be reconciled. Even if one spouse disagrees, the judge can still grant the divorce if sufficient evidence is presented. Some of the reasons that a spouse can use to file for divorce on these grounds include adultery, abandonment, voluntary separation lasting over a year, involuntary separation lasting over two years, and incompatibility.
Call a St. Louis Divorce Attorney Today
(314) 888-5944
The Missouri divorce process can be long, confusing, and complex. Don't forget you will need to handle matters involving custody, child support, spousal support, property division, and more. Any St. Louis divorce lawyer from STL Law Group is prepared to provide sound counsel in any of these situations. We have helped countless families through divorce, finding beneficial and cost-effective legal solutions. With so much at stake, you don't want to find yourself without a divorce attorney.
For skilled legal representation in divorce proceedings, speak with STL Law Group during a free phone consultation. Call (314) 888-5944.